Announcements:
1.
RSVP TODAY to watch (from the comfort of your home!) Burning Coal Theatre's pre-recorded professional production of CTC alum's very own published one-act, Funny Business! Congrats to the playwrights!
Dates and Times: Friday, May 27 @ 7PM & Saturday, May 28 @ 7PM
---
The Call Board (here & in-person) is where you can get the latest updates on productions, auditions, rehearsal schedules, reminders & any changes.
---
---
Sign Up Genius
Please go to: bit.ly/helpctc
Needs are ever-changing and on-going in theatre. As such, this sign-up genius will be updated all year. We appreciate your support as we strive to provide the BEST middle school theatre experiences for our Carroll Leaders!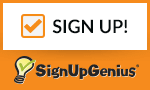 Ask your family and friends to donate to CTC!